Fun StuffFun and resources for readers, parents, and teachers
Movie News
Legend of the Guardians is the Warner Brothers film based on Guardians of Ga'Hoole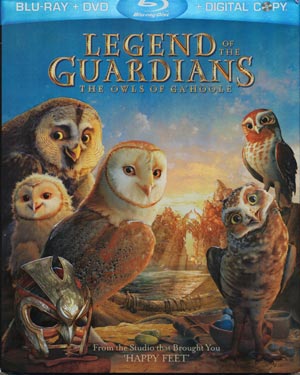 Here's what viewers are saying
The most physically beautiful movie I've ever seen!,
October 7, 2010 By Beta:
The Owls of Ga'hoole was definitely the most beautiful movie I've ever seen. And it's use of 3D was amazing. I liked the use of 3D in this even better than the 3D in Avatar. It was that good.
When I first saw it on the theater screen I was blown away, even from the first credits. This movie has a depth and "realism" that truly shows what 3D is capable of, without getting at all gimmicky.
The story is a general coming of age story, of myths and legends and people who still believe. It's about family, and dreams, and all the things that touch us most. The design of the owls was outstanding, giving a natural expressiveness and uniqueness to each owl was a big feat considering how expressionless and similar looking owls actually are. But the subtleties in the expressions in this movie were simply amazing to see, and each owl had it's own distinct character, look, and voice.
The backgrounds were beautifully rendered, but also very real looking. It was that golden mix of a fantasy world that looks real, without losing any of the power and message of the fantasy.
This is a good vs evil story, and the scenery reflects that, from the comfortable, normal, forest home in the beginning, to the dark and sinister mines of the "Pure Ones," to the busy and optimistic bustle of the great Tree of Ga'Hoole.
Even the water scenes in this movie were outstanding, and water can be a nightmare to animate, much less when animating feathers, and wet feathers at that.
I agree with the other reviewer who said they need an art book for this movie. Truly, if you see no other movie this year, go see Legend of the Guardians in 3D. This is one of those memories that stays with you forever. One of the GOOD ones.
You can see me walk the Red Carpet at the opening of the movie!
---
Want to learn about upcoming books?
please join our mailing list!