BooksLiterary Work of Kathryn Lasky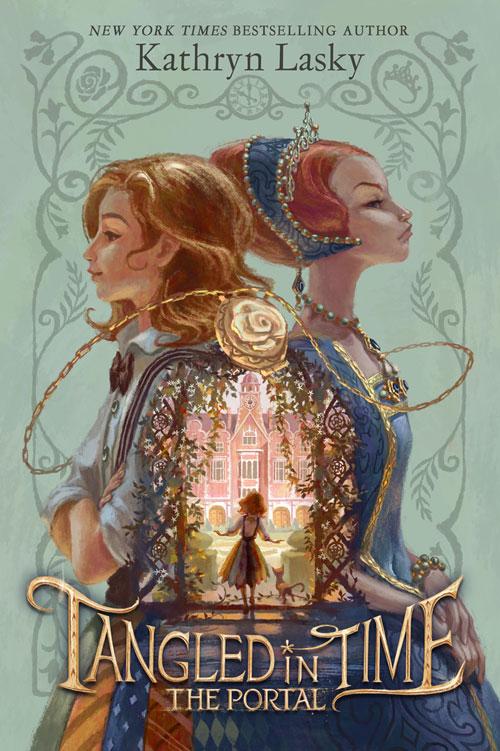 Tangled in Time: The Portal
Life used to be great for Rose. She loved her friends, got on great with her mom (her dad was out of the picture), and was starting to rack up a lot of hits on her fashion blog. But then her mother dies in a car crash, and Rose is sent away to live with a strange, old-fashioned grandmother she hardly knows.
Rose starts at a new school where her fashion- forward looks are not appreciated—and the mean girls don't let her forget it.
The one place Rose can take refuge is in her grandmother's Tudor-style greenhouse, a glass castle and a safe haven for Rose. One night, she sees a strange light glowing from within the greenhouse. She climbs a ladder to investigate . . . and finds herself transported to another time and place.
Rose has gone back four hundred years
 to Hatfield Palace, the home of a banished princess, Elizabeth, who's the daughter of King Henry VIII. Rose becomes a servant— and a valued confidante—of the future queen. Living in the past is fascinating, but Rose is desperate to know how to get back to her own time. Then she discovers something truly surprising—a beautiful locket with two mysterious images inside it, both of them clues to her own past. Could her grandmother's greenhouse portal offer answers to the mysteries of her family . . . and their secrets? And how will she ever unravel them all? Newbery Honor–winning author Kathryn Lasky delivers a riveting story of how one girl draws on strengths she did not know she had
 in this story of one family and two centuries that have become tangled in time.
---
Related Posts
---
Want to learn about upcoming books?
please join our mailing list!